Bank of Baroda has released a notification for the recruitment of 500 posts of Acquisition Officer post. If you are preparing for Bank of Baroda AO Exam then the preparation strategy should be clear to you. Candidates with a quality preparation strategy appear to be more result-oriented and thus have a higher chance of succeeding in the exam. Bank of Baroda AO Exam has total three stages – Online Exam, Group Discussion and Interview. Complete preparation strategy for Bank of Baroda AO Exam is here.
Bank of Baroda AO Exam Preparation Strategy
Like any other banking exam, the competition for this recruitment is expected to be fierce. But with a good preparation strategy you can get ahead of other candidates. Before going into the details it is important that you know the selection process and exam pattern for Bank of Baroda AO Exam. The exam consists of three stages:
Online Examination
Group Discussion Interview
the interview
Exam pattern for online written exam is mentioned below.
Bank of Baroda AO Preparation Policy: Exam Pattern
department
No. of questions
points
reasoning
30
30
English language
20
20
Quantitative Aptitude
30
30
general knowledge
20
20
Total
100
100
Department Wise Preparation Strategy for Bank of Baroda AO Exam
While preparing for the exam, you need to be aware of the relative weightage of the exam sections, the nature of the questions asked, and your strengths and weaknesses. Detailed department wise preparation strategy for Bank of Baroda AO is given below.
Bank of Baroda AO Preparation Policy for English Language
This is a comparatively scoring section with 20% weightage in the actual exam. To do well in this section, you should work on certain aspects every day. This section can give high output with simple steps.
Comprehension is expected to be a major part of this section. Candidates should make habit of daily newspaper reading to improve reading and comprehension skills.
Focus on articles based on environment, business and economy.
Candidates should also learn vocabulary with daily usage otherwise it will not be useful.
Read Ace English book twice to clarify all grammar concepts.
Watch daily English videos on Adda247 official YouTube channel.
You can also view our daily vocabulary articles on our app.
Preparation Strategy for Bank of Baroda AO Reasoning Ability
As per the exam pattern, the weightage of this section is 30%. Reasoning section will have 30 questions. There are two stages of preparation for Reasoning i.e. knowing the concept and practicing it. Many candidates struggle in this section as they cannot manage time.
The only mantra to score well in reasoning section is to practice the topics over and over again.
Most of the candidates score maximum marks in Reasoning and Quant section.
Puzzles and seating arrangements are expected to hold significant weightage in this segment.
Practice all types of puzzles be it box-based puzzles, flat/floor-based puzzles, designation based and other types etc.
Give departmental mocks daily.
Practice free quizzes on Adda247 app.
Explain your basic concepts related to Syllogism.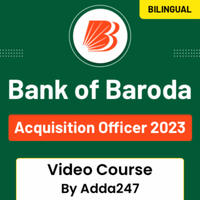 Bank of Baroda AO Preparation Strategy for Quantitative Aptitude
The weightage of this section is also 30% in the exam. With enough practice, you can score very high in this scale. Here is the detailed policy for Quant section.
Quant is a section in which if prepared well, there is less chance of getting cut. Data interpretation constitutes a major part of the quant department.
Practice all types of DI like Caselet, Tabular, Bar Graph etc.
Watch free video on Adda247 youtube channel to see how to solve DI.
Learn some basic motion math concepts like tables, square roots up to 25 and cube roots up to 30.
Practice enough questions.
Bank of Baroda AO Preparation Strategy for General Knowledge
This is the hardest section. The questions are generally factual in nature and require a lot of memorization. Here are some tips for the general knowledge section.
Read everything about Bank of Baroda and other public sector banks.
Must have thorough knowledge of RBI and other regulatory bodies.
Should have knowledge of economic survey, budget and other news related to economy.
Stay updated with latest recruitment in banking sector.
You must be aware of all the important news at national and international level.
You can also watch daily current affairs videos on ADDA 247.